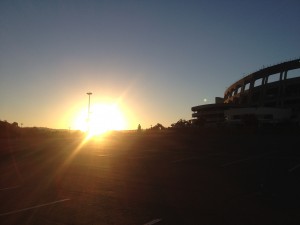 The sun rises on another NFL season.  It's the calm before the storm.  The off-season drama is over and now the games that count start tonight.  On the NFL Opening Weekend, every team is in it.  Every team has a chance.  Every team has 12 guaranteed wins.  Every fan has optimism that this is their year.  Some fans are right, and for other fans, there's always next year.
That's the excitement the NFL brings.  You don't know until you play the games.  So let's get this started.
Whether your planning a road trip to go see your favorite team, or going to see a game in your favorite city, make sure you have fun.  That's why we've all waited 9 months.  For. NFL. Football.
VenRoo is proud to support road trips for all NFL teams.  You can decide where to go, or track where you've been with our map of all NFL stadiums.
Visit VenRoo.com and get your road trip planning off on the right foot.  And enjoy the season!
Your friends at VenRoo….